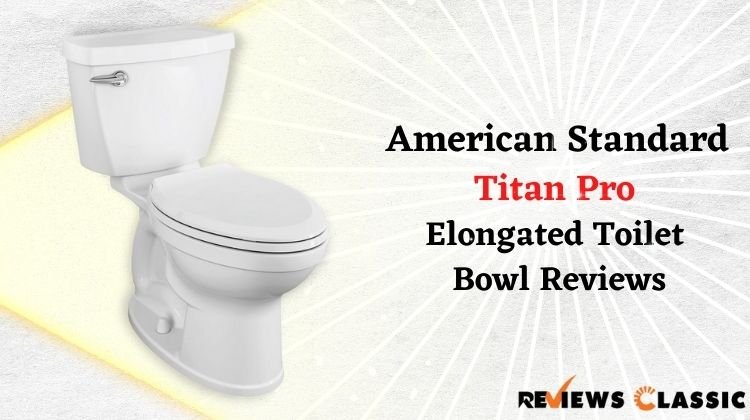 American Standard Titan Toilet Review 2022 – Things You Should Know 
Toilets are an essential part of your daily life. Buying a well-functioning toilet is therefore crucial. However, if you're looking for the American standard toilets as a customer, you are on the right track. American Standard is a recommended brand by most plumbers. It's because their toilets are water-conserving while offering excellent flushing power. Also, most of their toilets are ADA compliant and comfortable.
Now, the Titan Pro model from American Standard is no different. It's an elegant toilet, and many toilet reviewers recommended this product for its overall good performance.
However, there are always pros and cons, as no product will be hundred percent effective. So, in this article, we will go through an in-depth American Standard Titan toilet review. Also, we will conclude if it's the perfect choice for you or not.
American Standard Titan Toilet – The Features
| | |
| --- | --- |
| Material | Vitreous China |
| Color | White |
| Dimensions | 29.25 x 15 x 15 inches |
| Weight | 55 lbs |
| Shape | Elongated |
| Flush Type | ProOne system |
| Installation Procedure | Floor Mounted |
| Seat  | Not included (sold separately) |
| Comfort Height | No |
| Toilet Rough In | 12-inch |
| Warranty  | 10-years |
| Certification | No |
American Standard Titan Pro Elongated Toilet Bowl Reviews
Now let's get into the review section of the American Standard Titan Toilet –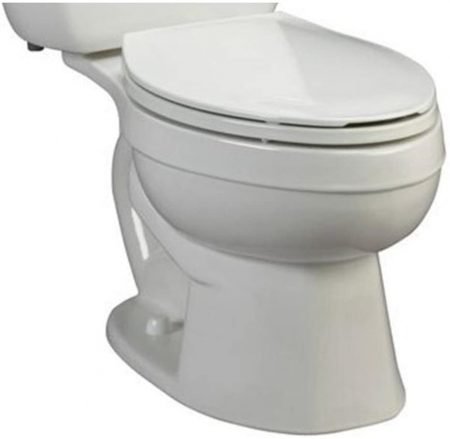 Toilet Material
The material of a toilet is crucial as it determines its durability as well as performance. The Titan Pro features Vitreous china as the build material. Vitreous china is the most durable material out there in the market. It's basically ceramic or porcelain with an enamel coating. 
The coating strengthens, densifies, and shines the porcelain. Therefore, you are getting a durable and solid material for your toilet. Also, the coating gives your toilet a glossy finish.
Vitreous china material is easy to clean compared to other materials like ceramics. In other words, the high-shine finish can be maintained with a simple swipe with a soapy cloth. 
Toilet bowl Design
The American Standard Titan Pro is an elongated toilet. In general, elongated bowls are considered hygienic since their larger surface area allows men and children to use them with less mess. 
Also, for an ADA-compliant toilet, an elongated bowl is a requirement. It's because people with mobility issues find the wider bowl easier to use. 
In terms of looks, elongated bowls are more visually appealing and comfortable than round front bowls. However, this is a personal preference influenced by an individual's height and weight.
The two major drawbacks of an elongated toilet are 
Takes more space compared to round toilets 

A bit expensive 
An elongated toilet is more comfortable, contemporary, and easier to clean than other toilet designs despite these cons. 
So, in terms of toilet bowl design, the American standard Titan has an advantage over other toilets.
Installation
The toilet installation procedure is critical because it can lead to plenty of plumbing issues if you don't install your toilet correctly. With the American standard titan toilet, you can easily install it as you don't need any expert knowledge to do so.
This toilet has a substantially sized footprint that readily covers the footprint of the prior model, making it excellent for retrofits without worrying about flooring. 
Moreover, the package comes with a 12-inch rough-in with two-bolt caps. You just have to follow the instructions. So, if you are a DIY person and don't want to pay a plumber for something you can handle yourself, this toilet is the right choice for you. Here are new tricks, How to use a plunger on your toilet?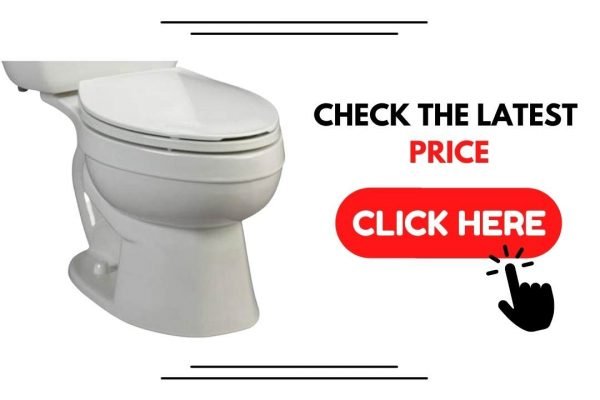 Flush Technology
The flushing mechanism is the most crucial part of any toilet. With the titan pro toilet, you are getting a powerful ProOne flushing system. Unlike other common toilets, this one features a 3-inch flush valve, which is quicker than a typical 2-inch flush valve.
This technology is able to flush around 2.2 pounds of solid waste with just a single flush. So, with its robust flushing technology, there is a lower chance that you will not have any clogging issues.
Moreover, despite its being powerful, the ProOne flush system is also water efficient. With each flush, only 1.6 gallons of water is utilized. In other words, the titan pro uses considerably less water while still cleaning bowls like full-flush toilets.
So, if you are looking for a low-flow toilet with a high efficient flushing system, then the American standard titan is the one you should go for. 
Toilet Construction
American standard's titan pro features a two-piece construction. This basically means that it comes with a separate bowl and tank. So, it makes the installation process quick and straightforward. 
This toilet is not as heavy as a one-piece toilet. That's why just one person is enough to install it. There are other advantages too because of its two-piece construction.
For example, in case of damage to the toilet bowl and tank, you won't have to replace the whole unit like one-piece toilets. So, this toilet is more convenient in this section. Also, this toilet is easier to maneuver within a compact space.  
So, the titan pro toilet is the one to go for if you want a more accessible user experience. 
Toilet Trap Way
Trap ways are typically 2 inches wide. However, this one is significantly larger and transports more trash quickly and easily. There will be no clogs, and one flush will be sufficient to transport the waste.
Warranty
American standard provides ten years of warranty for their Titan pro toilet. It means you can invest with confidence, knowing that you are protected if the bowl or tank arrives with a fracture or other type of damage.
Benefits of Titan Toilet Pro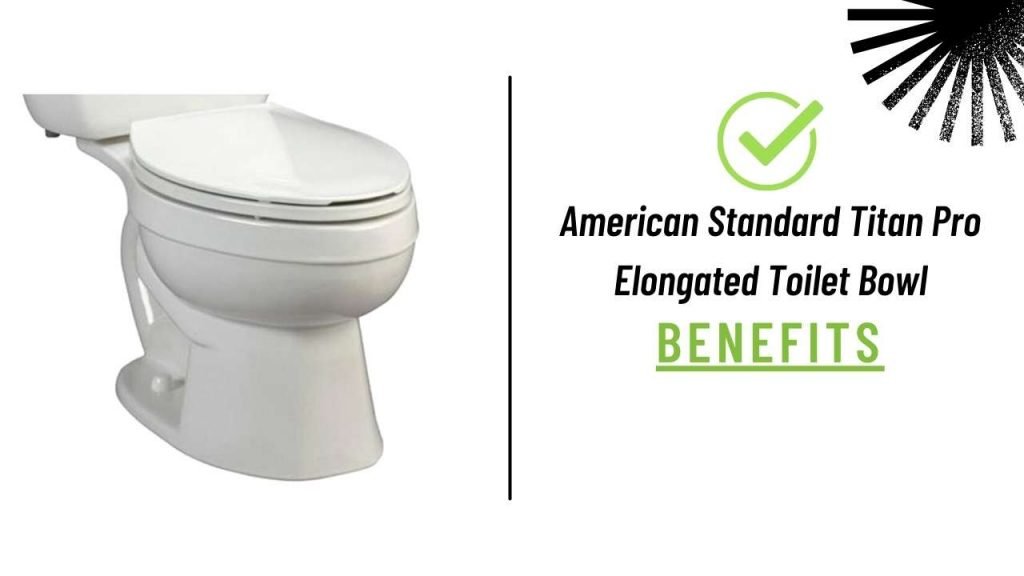 There are several advantages of the American standard titan toilet. However, let's get into the major benefits of the Titan pro –
Simple installation procedure 

Sturdy construction for long-lasting performance 

Powerful ProOne flushing technology

Water-efficient flushing system

Super quiet flush

Comfortable elongated bowl design

High-quality vitreous china material for durability

Easy to clean design

Features a chlorine-resistant flapper and a completely glazed trapway

Come with a limited 10-year warranty
Drawbacks of Titan Toilet Pro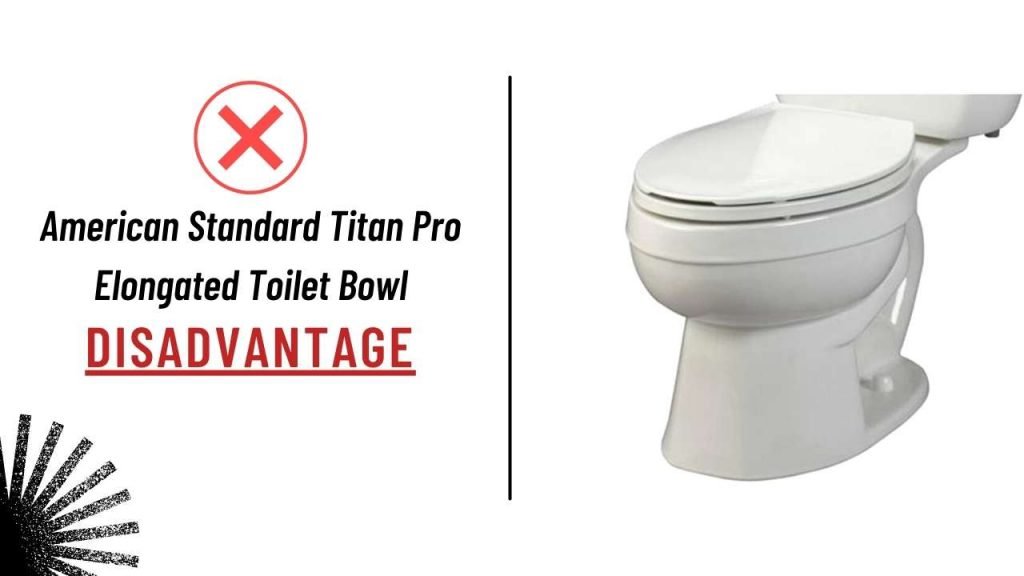 Despite its advantages, there are also some obvious drawbacks behind this toilet model. So, let's find out the major cons of the titan pro toilet.
The toilet seat is not included. You have to buy it separately.

Difficult to find a matching tank.

The toilet is not WaterSense certified.
Final Thoughts | Should You Go For The Titan Toilet?
After all this deliberation, we can ultimately conclude that the Titan Pro is a sturdy and long-lasting two-piece toilet. In other words, this toilet is a great addition to your bathroom. You have many options with this toilet, as there are various colors to choose from, like white and bone.
Moreover, this toilet features a powerful flush with water-efficient functionality. Also, its elongated design provides comfort for people of all ages. 
Along with its design and functionality, this toilet is easy to clean and install. As you can see, all of the features of the American standard titan toilet are compelling enough to justify purchasing it. Also, many of the American standard titan toilet review around the internet suggest this model for getting a quality user experience.
However, we also discussed some major drawbacks of the Titan pro. There is no seat included with the package. So, you must purchase a separate toilet seat and a wax ring for installation. So, if you are looking for a toilet that comes with a seat then this toilet is not the ideal one for you.
In the end, before concluding your purchase, always go for your own preferences. A toilet is a crucial part of your household system. It's something that you will use for a longer period of time. Therefore, making the right choice is what you need to do.
FAQ
Are American Standard Toilets Good?
American standard toilets are quality toilets that plumbers recommend most. They offer water-conserving toilets with powerful flushing technology. Moreover, a significant number of these toilets are also ADA compliant.
Compared to other toilet brands, American Standard toilets are slightly less expensive while still being quite durable and effective in terms of functionality. In other words, they offer some of the most economical and fairly priced yet high-quality toilets on the market.
Is the American Standard Titan Toilet Durable?
Most American standard toilets are durable as they use Vitreous china, which is tougher and denser material. This material has a glass-based enamel covering that makes it more durable, denser, and shinier. 
The coating on vitreous china is more resistant to spills, scratches, and other flaws. The high gloss enamel is extremely durable, hygienic, and produces a stain-resistant surface.
As most American standard toilets feature this material like the titan pro, their toilets are very much durable. 
What Is the Standard Trap Way Size for A Toilet?
The standard trap way size is 2-inch diameter. A two-inch trap way is enough to allow an object the size of a handball to pass through. There are, however, extended trap ways. The American standard titan pro, for example, has a 2-1/8-inch trapway that can carry 60% more mass than a 2-inch regular trapway.