How To Store RV Cover And RV Cover Using Benefit
How to store rv cover If I say RV is one of the biggest investment, will you oppose? I don't think so. Even all the middle-class people like me will say, it is one and only biggest investment of my life! That's why everyone wants to give it the safest possible care as they care for their baby.
And why not? The approximate price of a good quality RV is huge! So, you cannot just overlook the health conditions of the RV. Besides, the repairing cost of an RV is quite high. Hence we should consider the proverb seriously! Which one? "Prevention is better than cure."
If you need to play safe you should maintain the RV properly. And if you maintain your pocket is safe. How to keep it safe? You should clean it on a regular basis and while not in use you should cover it with a good quality RV cover and RV tire cover. But the cover that cares your valuable vehicle don't you think it needs some extra care too? Yes, it does, and that's my today's concern.
Throughout the article, I will tell you the problems you might face with your RV cover and how to properly maintain and care for it. It is predictable if the cover is ruined it can't save the thing inside. So, fasten your seatbelt and grab some Popcorns as I am going to reveal the secret of RV cover maintenance now.
Why Use an RV Cover?
---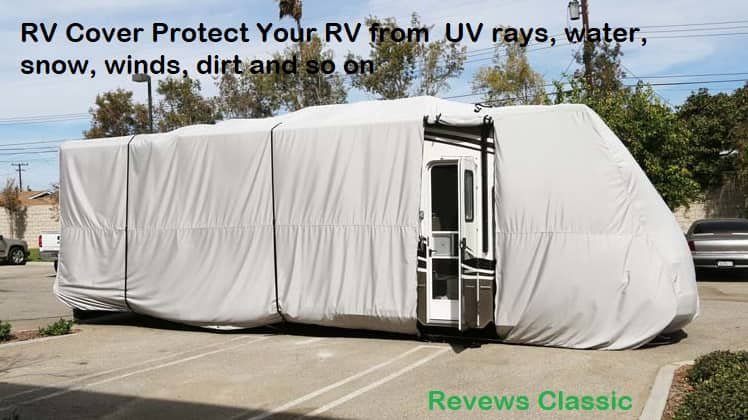 Simply, to protect your valuable RV from different harmful elements including UV rays, water, snow, winds, dirt and so on. Let's face it, and your RV will not hit the road throughout the year. Usually, people keep their RV under a roof during winter. The winter is not at all suitable for RV trip. While in storage if you don't use cover dirt and dust might ruin the interior of your valuable vehicle.
Pre-Storage Task:
Washing
---
Before store RV cover you need to complete the pre-storage task which is cleaning. Never store a dirty cover. Anyway, most of the RV covers come with proper instructions manual according to their materials type. You will get details about cleaning.
Different covers are made of different types of materials. That's why the cleaning process varies.
If you don't have the instruction manual and not sure about the fabric, you should follow the most common washing process. What is that? Let me tell you:
Keep the surface over a plastic or nonporous material in the ground
Rinse the cover with warm water. For that, your garden hose will be sufficient.
Don't use soap as you don't have instructions. Why? Cause not every soap is ideal for every fabric. So, it might ruin your RV cover.
Grab a soft brush and scrub gently
Again rinse the cover with the hose
Dry the cover completely
Folding the Cover
---
Folding the cover properly is an art. RV cover is huge in size that is why it is quite a hassle while folding. Even it is an irritating job too. You can even damage the cover too in times of folding. The ideal tips are to fold from both sides and then equally from front to back side.
Storage Bag
---
Most of the RV cover comes with a bag for storage purpose. After folding the RV cover properly, you should keep it inside that bag. If you don't have that RV storage bag, you can purchase a large plastic bag. Plastic bags are ideal for storing covers.
After putting the cover inside the storage bag or plastic bag, you should keep the bag somewhere safe. And don't forget the place where you kept it. Otherwise, you might lose the cover forever!
Tips:
Don't let water and snow stay in your RV cover for long
Clean the cover after every use
Tie the cover down with great care
Keep the cover dry
Never use the cover on a dirty RV
Important Factors to Consider:
---
Now the last and the most important fact I want to point out. What things should you consider before picking an RV cover? Well, I will try to explain it briefly.
First of all, you want to consider the materials. You have to purchase an RV cover according to the atmosphere in your area. For example, you live in a monsoon area, so the fabric of your RV cover must be waterproof. The market is full of various options for various purposes. Know your need and grab according to that.
Secondly, you need to consider the size carefully. Measure the RV first and then grab the one according to that. If you pick a large cover than your RV it will be loose and if you pick a smaller size, it will not fit. So, you should be very careful about the size.
Thirdly, pick the type according to the type of your RV. The cover of the camper will not be the same as a motorhome, don't you think? So, pick the type according to your RV type.
Finally, you should consider the price too. Though the price of RV cover isn't that much, still to pick a good quality product you should spend a few bucks more. It is said that you will get what you pay for.
RV cover is an extremely important thing for an RV owner. It is an expensive vehicle that's nobody should be less serious about its maintenance. However, if you care properly, your RV will last years after years without having a single problem. Anyway, I mentioned everything about RV cover. I hope you already have one if don't be late.
Also, use RV tire cover too. RV cover cannot provide the best protection to the tires. That's why while not in use tire can be ruined. If you spend a few more dollars and purchase tire cover you can stay away from that hassle.
This is the end for now. If you have anything to know, feel free to comment. We will meet again soon with lots of other tips and tricks. Till then:
Stay Happy!
Related Post:
---